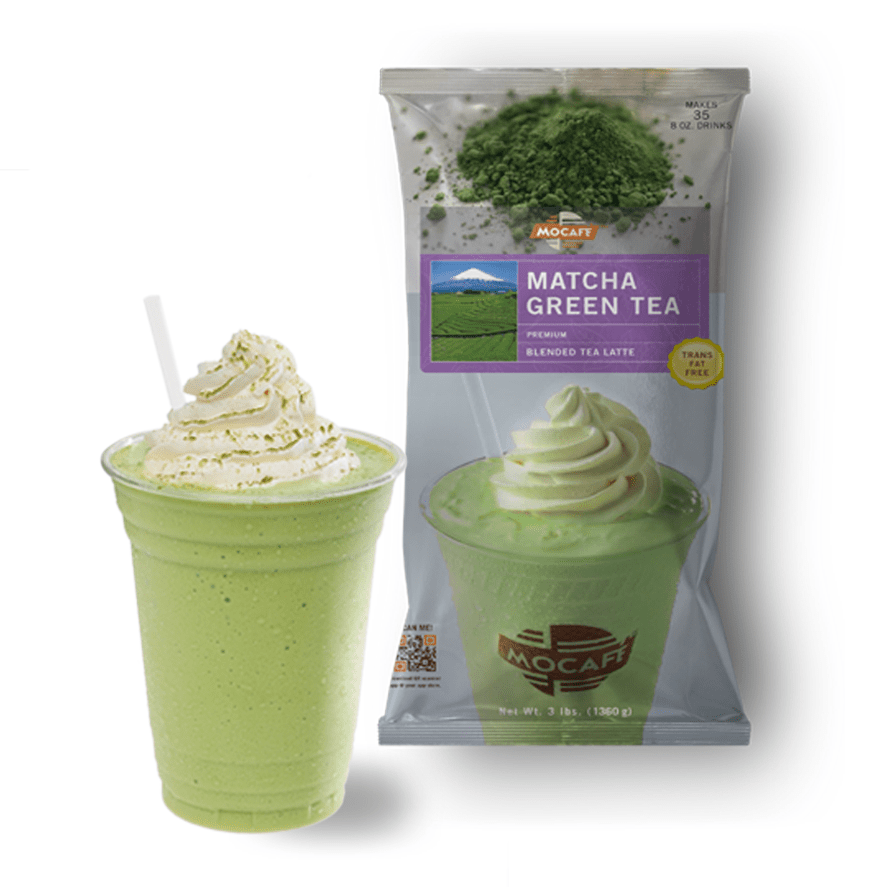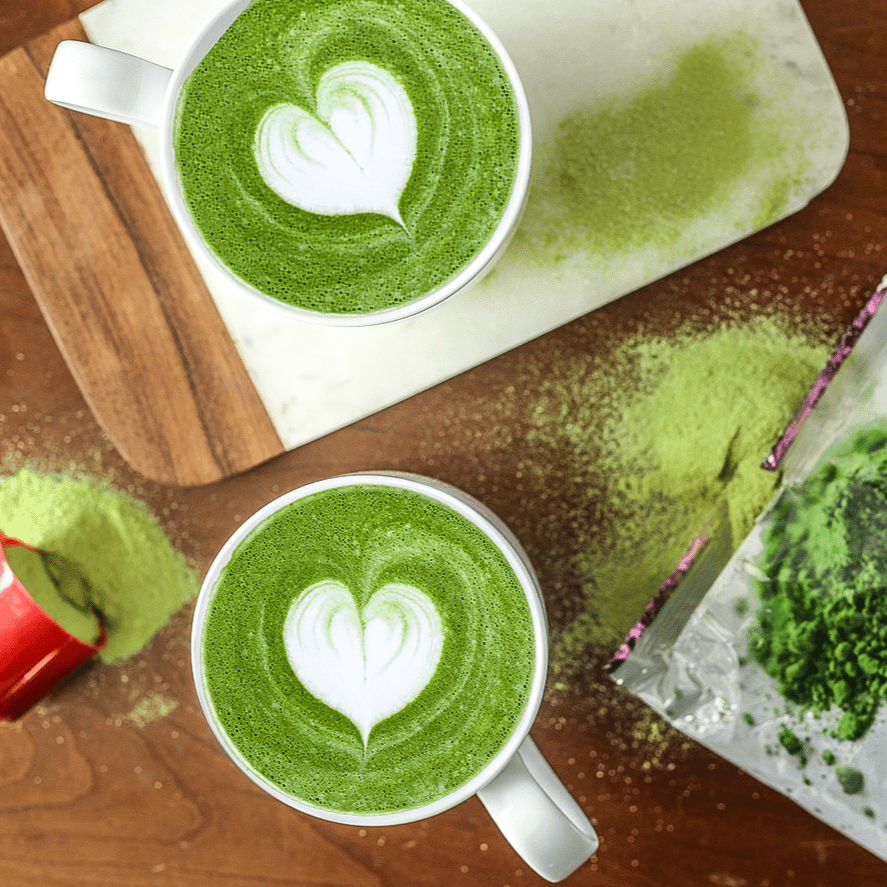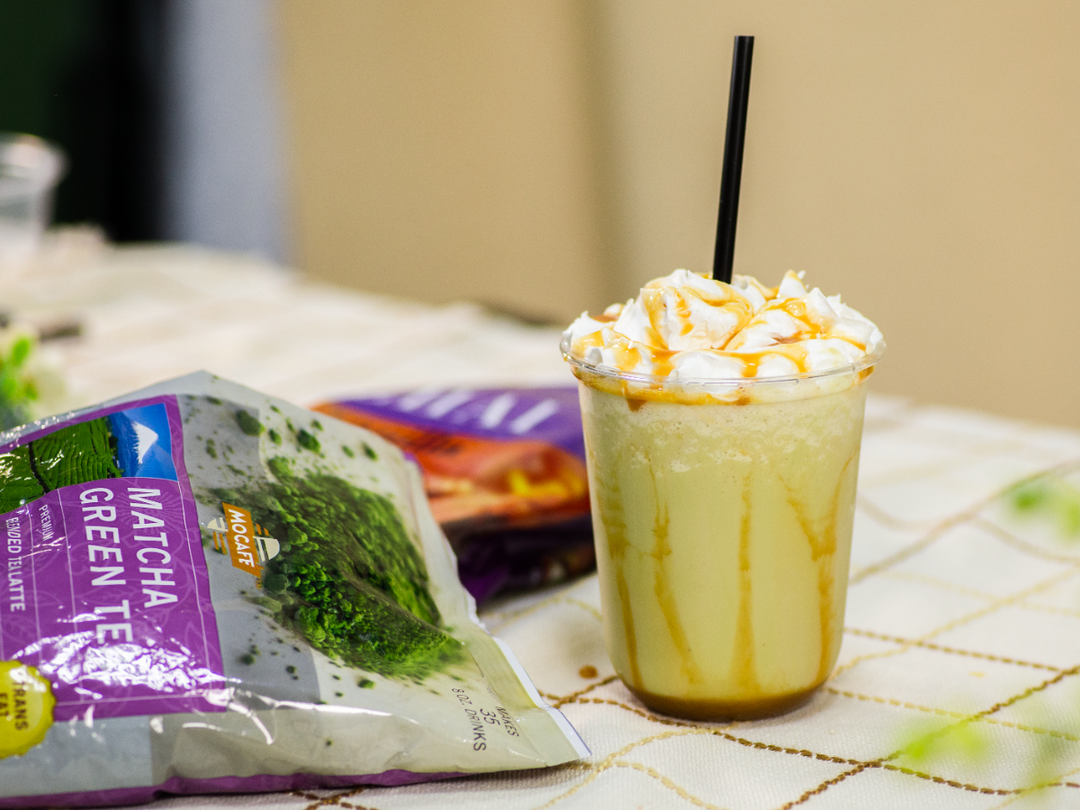 MOCAFE™ Matcha Green Tea Latte
Sign in to view pricing
---
Experience our award winning blend of Kyoto MOCAFE™ Matcha Green Tea. 
This delicious blend of real shade grown Japanese Matcha is perfect for healthy green tea or blended latte. MOCAFE™ has captured the authentic taste of real shade grown Japanese matcha green tea by using only the finest ceremonial grade matcha around. One taste and you will understand why our MOCAFE™ Matcha Green Tea Frappe is the number one green tea matcha frappe on the market today!
Product Overview
(35) 8 fl. oz. servings per (3 lb.) bag
Certified Kosher-Dairy
Creamy Matcha Green Tea flavor
Great for making smoothies, frappes, desserts, and lattes
Can be served hot, blended or iced
MATCHA GREEN TEA RECIPES:
There's many ways to spice up your menu using Matcha powder. Whether you want to serve Matcha Lattes, Matcha Iced Tea, or any other variation, you'll be able to make something for everyone. Check out some of these easy recipes below, and don't be afraid to create your own!
Blended 16 oz. Serving: In a blender, add 6 oz. milk, 2 scoops (8 Tbsp) of MOCAFE™ Matcha Green Tea powder and 12 oz of ice. Blend until smooth and serve.
– Optional bubble tea recipe: add 2 oz. of tapioca pears to a 16 oz. cup. Pour blended mixture and serve.
Shaken 16 oz. Serving: In cocktail shaker, add 8 oz. milk, 2 scoops (8 Tbsp) of the MOCAFE™  powder and 12 oz. of ice. Shake vigorously.
– Optional bubble tea recipe: add 2 oz. of tapioca pears to a 16 oz. cup. Pour blended mixture and serve.
Hot 16 oz. Serving: In a 16 oz. cup, add 1 scoop of the MOCAFE™ powder and pour 12 ounces of hot water. Stir to dissolve. Top with 4 oz. steamed milk.
Try adding syrups or fruit to achieve more flavor profiles!
WHAT IS MATCHA GREEN TEA?
Matcha is a special version of green tea most commonly sourced from the Kyoto and Aichi regions of Japan. It has a vibrant green color, and has a higher caffeine and antioxidant content than regular green tea.
HOW IS MATCHA GREEN TEA MADE?
This drink is made from green tea leaves, but there are special preparations that create differences between matcha vs green tea. For instance, the tea leaves are forced to grow in roughly 90% shade during the final month before harvest. After that, they ramp up their production of Chlorophyll, the pigment that gives plants their green color. This is responsible for the absorption of sunlight for photosynthesis. However, this causes the leaf to become a much more vibrant shade of green and decreases the tannin content. Therefore, making it much sweeter and milder in flavor.
After harvest, the leaves are then steamed which helps spread the chlorophyll through the leaf. After that, the leaves are de-veined and dried, then ground into a fine powder. In fact, the word Matcha means "powdered tea."
Feeling lucky? Check out our Leprechaun Frappe recipe!
HOW MUCH CAFFEINE IS IN MATCHA?
To prepare regular green tea, tea leaves are soaked in hot water, then removed from the water once soaking is complete. When making Matcha however, the powder from the entire leaf is consumed. As a result, it tends to be higher in caffeine content, higher in antioxidants such as polyphenols, and higher in L-Theanine. The caffeine content is similar to that of a cup of coffee, which is usually around 2 to 3 times as potent as green tea. Combining caffeine with L-Theanine is widely praised as a great way to get a boost of energy and focus without getting jittery. The caffeine perks you up, while the L-Theanine provides focus with a slight calming sensation. You can read more about the effects of L-Theanine right here.
In conclusion, Matcha can be enjoyed both hot or cold in Matcha Frappes, Matcha Lattes, and hot or iced teas.
Sugar, Non- Dairy Creamer (Coconut oil, Corn Syrup Solids, Sodium Caseinate (a milk derivative), Sugar, Tricalcium Phosphate, Dipotassium Phosphate, Propylene Glycol Esters of Fatty Acids, Mono- and Diglycerides, Salt, Artificial Flavor), Matcha Green Tea, Whey Protein Concentrate, Salt, Natural & Artificial Flavor. All ingredients contained in this product are approved for use in a regulation of food and drug administration or are listed on the FEMA GRAS list.
Contains milk and coconut. All products made in the U.S.A. Manufactured in a facility that processes wheat, soy, eggs, peanuts, and other tree nuts. WARNING: Consuming this product can expose you to lead, which is known to the State of California to cause cancer and birth defects or other reproductive harm. For more information go towww.P65Warnings.ca.gov/food.