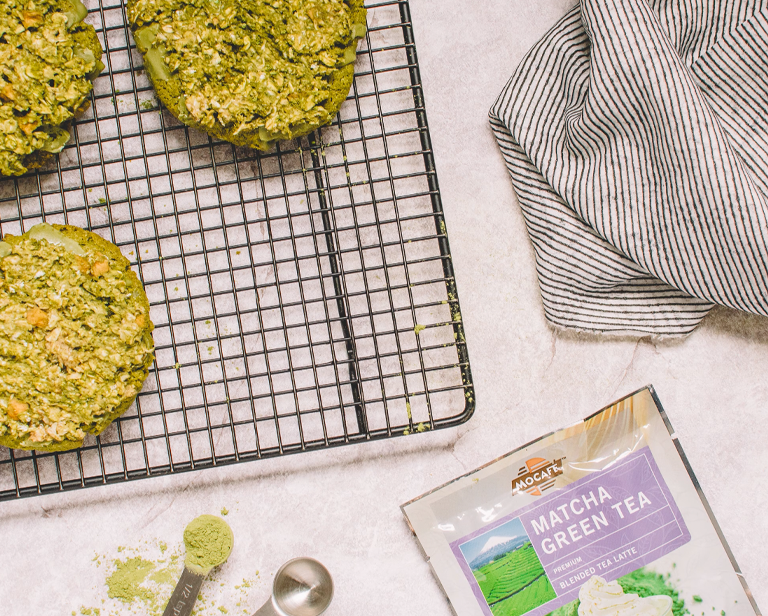 If you love matcha, you will love these matcha cookies! That's right, Matcha is not just for drinks. 
INGREDIENTS
2 teaspoons MOCAFE™ Matcha Green Tea 

1 tablespoon ground flax seeds

1¾ cups rolled oats, divided

1 teaspoon baking powder

¼ teaspoon sea salt

1 ripe banana, mashed

¼ cup melted coconut oil

¼ cup coconut sugar

½ cup shelled pistachios
DIRECTIONS
Preheat the oven to 375F. Line a baking sheet with parchment paper then set aside.

In a bowl, Add the flaxseeds with 2 tablespoons of filtered water and stir. Refrigerate for 5-10 minutes while you prepare the rest of the ingredients, this will be your "flax egg".
Pour 1 cup of the oats into a food processor or blender and blend until it is turned into a fine meal.
Move the ground oats to a medium bowl, along with the remaining ¾ cup oats, baking powder and salt. Whisk to combine.
In a separate bowl, stir together the banana, coconut oil, sugar, matcha and the flax egg. Fold the oat mixture into the banana mixture, stirring just until combined. Fold in the pistachios.
1-2 inches apart. Bake until lightly golden, 12-14 minutes. Transfer the cookies to a cooling rack and let sit for 10 minutes before eating.
---