Matcha Green Tea Pancakes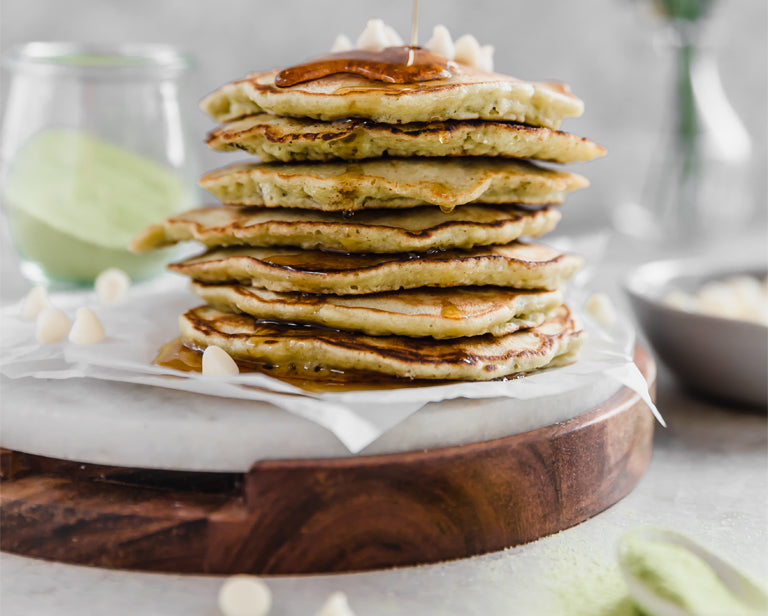 Shake up your Sunday morning with these tempting Matcha Pancakes. That's right, Matcha is not just for drinks. This pancake mix is easy to make, and your customers will love it!
INGREDIENTS
1 1/4 cups of cake flour
1/4 cup of sugar
4 Tbsp of MOCAFE Matcha Green Tea
1 Tbsp of baking powder
1/4 tsp of kosher salt
2 large eggs
1 cup of milk
4 Tbsp unsalted butter, melted, plus 2 Tbsp for cooking
2 tsp pure vanilla extract
1/3 cup white chocolate chips
Maple syrup
DIRECTIONS
In a large mixing bowl, whisk together the flour, sugar, MOCAFE Matcha Tea Latte Blend, baking powder, and salt.
In a separate bowl, whisk together eggs, milk, butter, and vanilla extract. Pour the wet ingredients into the dry, then mix together gently using a spatula until just barely combined. Be careful not to over-mix, you'll want to see a few lumps of flour.
Heat a griddle or skillet over medium heat. Grease with 1 Tbsp of butter, reserving the remaining Tbsp for use as needed. Using a 1/4 cup measuring cup, pour equal amounts of batter into your pan, then sprinkle each with a few white chocolate chips. Cook about 1-2 minutes per side, or until small bubbles form both along the sides and tops of each pancake, then carefully flip. Cook an additional 1-2 minutes then set aside.
Repeat with remaining batter. Drizzle the pancakes with syrup or other toppings of your choice and serve. 
---